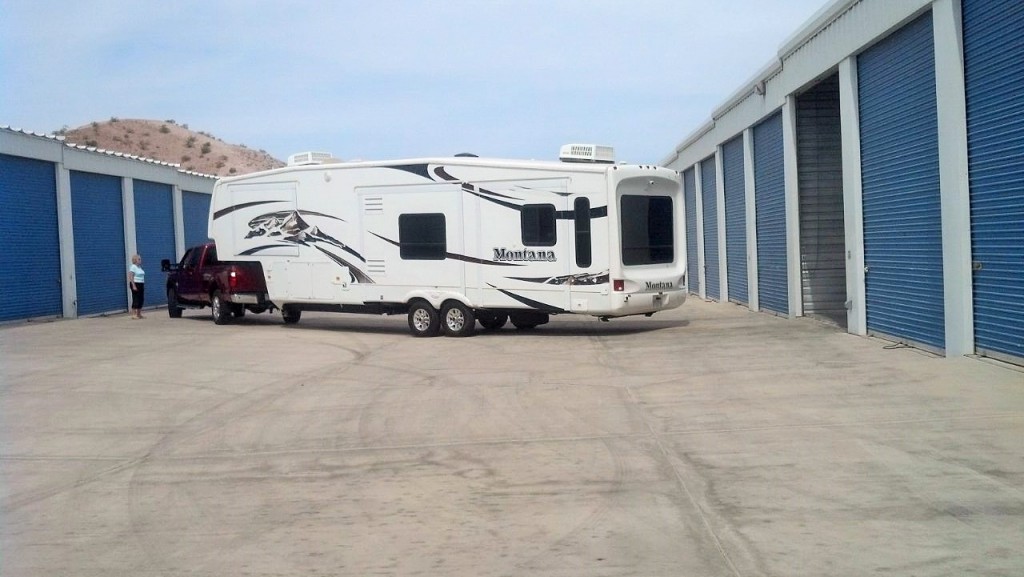 Storage designed with boats and RVs in mind
Anyone looking for Lake Havasu boat storage or RV storage probably knows how tricky it can be to maneuver into a storage unit. But don't worry — at South End Storage, we've got you covered!
We built our storage from the ground up with the needs of boat and RV owners in mind.
All our turning bays are between 50 and 60 feet wide, with plenty of space between unit rows.  That means you'll be able to get in and out of your storage space easily — or at least as easily as can be expected for something that size.
RV storage with concrete driving surfaces
Tired of dealing with sticky asphalt or gravel driveways that get your boat or RV dusty? We get it.
When you store your boat or RV, you want it to be clean when it goes into your unit! That's why all our driving surfaces are solid concrete slabs. Once you've rinsed it off in our covered wash area, you're good to go.
Boat storage units with individual alarms
Security is a top priority for us, which is why all our storage units are equipped with individual unit alarms.
When you rent from us, you get your own personal pin code. You'll enter it to open the front gate, which also turns off the alarm on your particular unit. When you leave, you enter the code again and the alarm on your unit is armed.
That means that if anyone tries to enter your unit while you aren't there, the alarm will sound — even if the thief is another tenant. We also have 24-hour video monitoring for extra piece of mind.
All the extras you need from a boat and RV storage
We have everything you need to get your boat – and yourself – cleaned up after a weekend at the lake:
Rinse off your boat or RV in our covered wash-down area.
Use our on-site dump station to empty the holding tank.
Sandy feet? Lucky you!  Rinse off in our enclosed shower before driving home.
There's also a vacuum and air station near the entrance in case you need them. And yes, it's all free of charge.
We have units up to 14′ x 45′ available – please give us a call at (928) 855-9797 to discuss your exact needs.